How to Make a Cotton Face Mask with a Bandana/Bandanna?
Jas Fashion

A cloth mask is not a medical-grade mask, but it can help reduce the spread of the virus when a medical-grade mask such as N95 face mask is not available. Making a homemade mask without sewing skills can be achieved easily by following the steps below:
How to Make a Face Mask with a Cotton Bandana?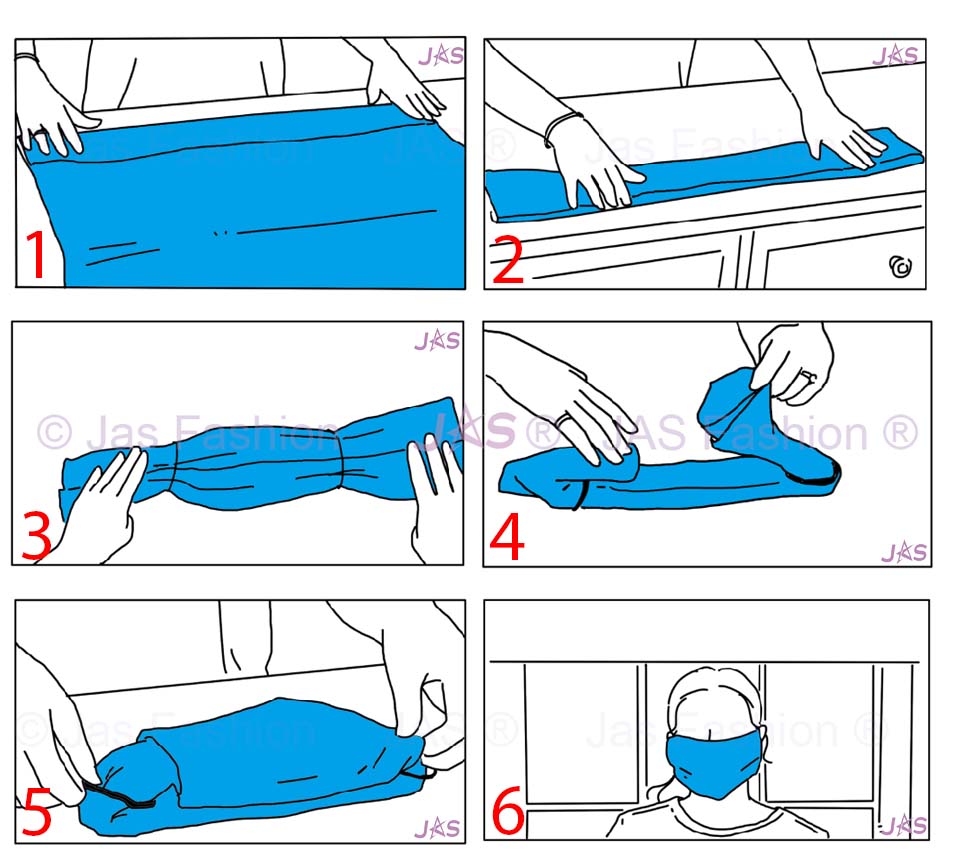 Step 1: Put the cotton bandana on a flat surface and start to fold the bandana towards the other end, or towards the centre. Adjust the fold till the print pattern you would like to display is in the middle of the other side. Please refer to the Image above Marked #1.
Step 2: Fold the bandana into a rectangular shape. Adjust the width according to the width between your nose bridge and your chin. The purpose of this is to make sure the mask can fully cover your nose and mouth. Please refer to the Image above Marked #2.
Step 3: Put two medium-sized elastic bands/hair ties around the folded bandana at either end. Please refer to the Image above Marked #3. Tips: Elastic bands can be purchased from a local newsagency or your local Officeworks. Sometimes, your groceries from your local supermarkets come with elastic bands. Shoelaces can also be used.
Step 4: Fold two ends towards the centre. You may like to tuck one end into the other. Please refer to the Image above Marked #4.
Step 5: Adjust the width so that the mask is enough to cover your mouth and nose completely. Ideally, the mask can spread over both of your cheeks up to the beginning of your ears. Please refer to the Image above Marked #5.Step 6: Try the self-made bandana mask on and adjust the size if needed. Please refer to the Image above Marked #6.
| | | |
| --- | --- | --- |
| | | |
| Fast Dispatch From Sydney Australia! | | Buy It Now! Many Colours! |
More related information:
Numerous studies carried out by scientists and health organizations around the world show wearing a mask will help prevent you from spreading respiratory droplets into the air.
Recently, the Health Minister of Australia Greg Hunt recommended that people from COVID-19 impacted areas should wear a face mask when leaving home and when observing social distancing is difficult.
Video Capture courtesy of Channel 7
On 19th of July, Victoria Premier Andrews made an announcement that people living in metropolitan Melbourne and Mitchell shire will be required to wear a mandatory face mask when leaving home due to a concerning number of coronavirus cases in recent days.
Please be reminded, wearing a homemade cotton mask will not fully protect you from catching the Coronavirus or any other airborne viruses. A DIY cotton mask cannot be a substitute for other social distancing and handwashing hygiene measures. The most effective way of protecting yourself from COVID-19 or stopping passing the virus onto other people around you if you are an asymptomatic carrier is to practise social distancing and to wash your hands.
For further information on how to wear a mask effectively and other Coronavirus related update and information, please visit: https://www.health.gov.au/
For Jas Fashion bandanas, please visit click here to view our bandnanas. We welcome bulk order or wholesale enquiries.
---
---