HOW TO DEAL WITH HAIR LOSS AFTER COVID
Lena Ross > 16 March 2022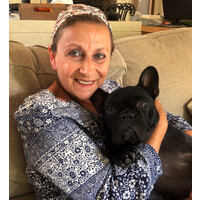 A tale of unexpected hair loss
Almost two months to the day after recovering from Covid-19, the one post-illness effect I wasn't prepared for was hair loss. I understand that there are more serious 'Long-Covid' conditions, but I was not emotionally ready to see large chunks of hair coming out in my comb. I first noticed the excessive loss when I was washing my hair and combing through my conditioner. The amount of hair that came out was clearly beyond 'normal'. As I dabbled in a little more online research, I learned it is indeed a post-Covid effect with a medical name – telogen effluvium. It sounds just like a new light system for a bathroom renovation! If my condition follows the expected process, I can expect to experience hair loss for another 6-12 months.
We are still learning a lot about the effects of Covid-19 on our longer-term health and well-being. After having the virus in November 2021, I am starting to experience post-viral impacts such as fatigue, anxiety and brain fog which in turn affects the quantity and quality of work I can do. And of course…excessive hair loss. The virus, most likely the Delta strain, knocked me hard for two weeks, with several days of a high fever hovering around 40 degrees (Celsius).
For someone like me, with fine and thin hair to start with, a significant percentage of hair loss means it became visible and obvious very quickly. This is what brought me here, to Jas Fashion, to source some cool, attractive headbands and other headwear to distract myself, and others, from 'lack of hair', or as my husband calls it – my 'new follicly-challenged state'.
I know there are more serious health problems than mine and a great deal of uncertainty in our world right now. I also know that amidst the chaos I need to stay grounded and focus on what I can control, instead of stressing about what's happening outside my circle of influence. Let me share a few things I do to stay positive and find joy:
I embraced a whole new look
I quickly had to discover new ways to manage my hair, or what was left of it.
Tying back the remaining hair fully off my face, and then adorned with a funky headband, was already different and new for me. This was an opportune time to be a little more dramatic with my make-up and nail colours, to experiment with bolder and brighter colours overall and wear retro-looking glasses and sunglasses. A mini transformation where I could take some control was empowering…and fun.
I focus on what I can influence and control
For me it's:
See my doctor regularly to monitor and manage my post-Covid conditions

Research vitamins and supplements that help with hair loss. I've started taking Biotin (B7) and mix black strap molasses in my herbal tea

Eat healthy food

Go on gentle walks – I say 'gentle' because right now I am so easily tired



I do things that bring me joy
Engaging in activities that bring me joy brings the added bonus of knowing that they release the feel-good brain chemicals of dopamine, oxytocin, serotonin and endorphins!
Go out for a top-quality coffee and savour every sip

Spend time with people near and dear to me

Cuddle my dog – well it's really my daughter's dog but they live with us. She's an adorable French Bulldog called Mocha.

Listen to music

Walk on the beach barefoot, being mindful about the sand between my toes and water lapping at my feet

Enjoy fresh air and sunshine and do deep breathing outside

Celebrate small wins and progress – writing this post is 'progress'

Keep a gratitude journal – each evening I write down at least one thing I am grateful for or something that made me smile
At the time of writing this (in March 2022), I have lost around 70 per cent of my hair. We are also discovering more about post-Covid health effects – physical and emotional – as more people around the globe contract and recover from the virus. For now, I'm working through one day at a time, one 'headband' at a time, and embracing what I'm grateful for!
Keep well, everyone!
Notes from Jas Fashion
Hair loss may occur after COVID-19 infection in some people. Lena Ross is just one of many who experienced excessive hair loss as a post-COVID symptom. How to manage hair loss and stay positive? I hope Lena Ross's story, a tale of unexpected hair loss, can provide some practical methods in dealing with "post-COVID hair loss" – this unexpected condition. If you have experienced the same "post-COVID" symptom, please feel free to leave your comments here or email us directly and share your story with our Jas Fashion community members.
Lena Ross is the Co-founder of Agile Change Leadership Institute and an Australian Business Book Awards Finalist. Find more about Lena Ross at: https://www.lenaross.com.au/
---
---