Jas Fashion Glove Sizing Guide

Jas Fashion satin gloves are made of soft and stretchable satin material. Our "One Size Fits Most" satin gloves can accommodate palm circumference from under 16cm to 20-22cm comfortably.
We have different glove lengths for different events.
Jas Fashion Sation Gloves Length Chart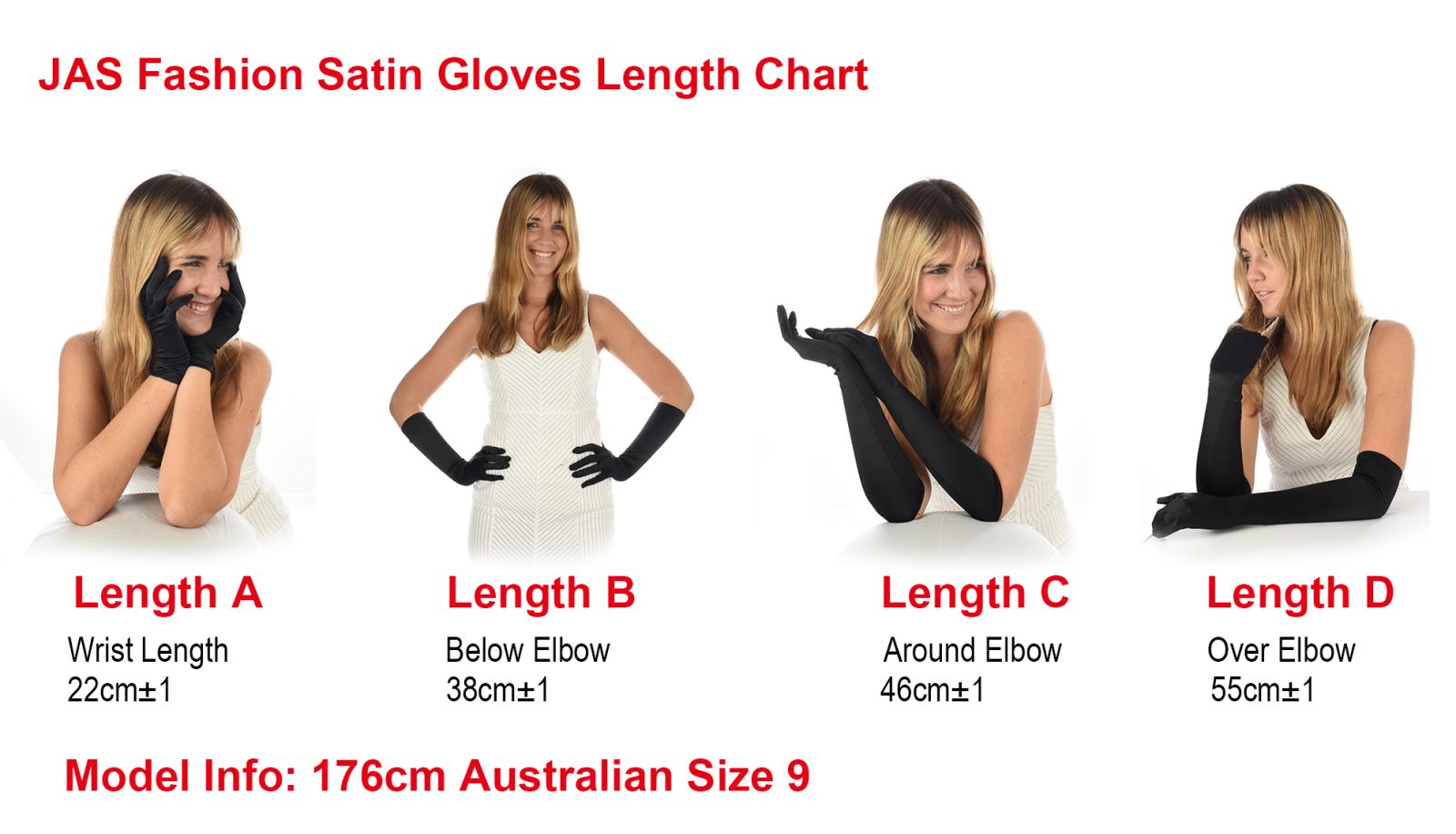 All Jas Fashion satin loves are stretchable. They fit palm and finger sizes: from small to medium or large.
| | |
| --- | --- |
| The following table may help you to determine whether the "One Size Fits Most" gloves are going to fit. When you measure your palm circumference, please take measurements of your dominant hand, i.e. if you are right-handed, take the measurement of your right hand and if you are left-handed, take the figures of your left hand. | |
Jas Fashion Satin Glove Dimensions (Reference Only)
*Please allow ±1cm variation from glove to glove *Circum = circumference Max. = Maximum
Jas Satin Glove Length

Glove Total
Length

Glove Hand
Length

Glove Palm
Length

Glove Palm
Width

Glove Palm Width
Stretch to Max.

Glove Palm
Circum. Max.

Recommended for Hand Palm Circum. Max.

Glove Cuff Width

Glove Cuff Width
Stretch to Max.

Fit Arm or Wrist Circum. Max.

Wrist Length

22cm

16cm

8cm

8cm

12cm

24cm

20-22cm

7cm

10.5cm

20cm

Below Elbow

37cm

16cm

8cm

8cm

12cm

24cm

20-22cm

8cm

12cm

32cm

Around Elbow

45cm

16cm

8cm

8cm

12cm

24cm

20-22cm

10.5cm

16cm

31cm

Above Elbow

55cm

16cm

8cm

8cm

12cm

24cm

20-22cm

11cm

16cm

31cm