Step-by-step Guide on Placing an Order on a Mobile Device
Jas Fashion

Placing an order from a mobile phone can be quite challenging, as the screen is relatively small, and your internet connection sometimes can be relatively slow too.
The following guide gives you some ideas on how an online store will look like on a mobile phone, and we hope this step by step instructions can help you. Once you place ONE order successfully, you will find all the online stores work in similar ways. Here you go!
Please feel free to contact us if you have more questions.
Step 1: Navigating
When you enter an online store, the first thing to do is to find the Main Menu. The Main Menu works like a map when you enter a giant shopping centre.

The following screen printout shows what it looks like when you enter Jas Fashion online home page.

Touch the menu icon (the three lines on the left top corner marked

#1

), and the Main Menu will expand.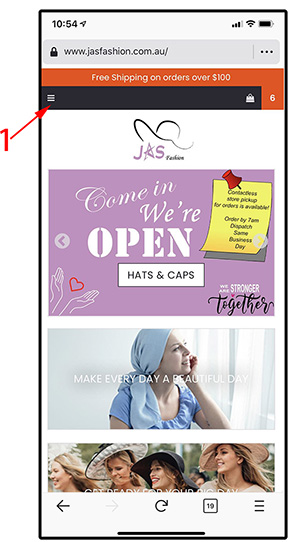 Once the Main Menu is expanded, it will look like the following screen printout.
#1 - Main Menu (touch to expand it and touch again to make it hide.
#2 - Search Box: If you know what you are looking for, type a word here. For example, if you are looking for a beanie, type in "beanie". If you want to browse the store, don't put anything here.
#3 - Products Menu. Touch it to make it expand or touch it again to make it hide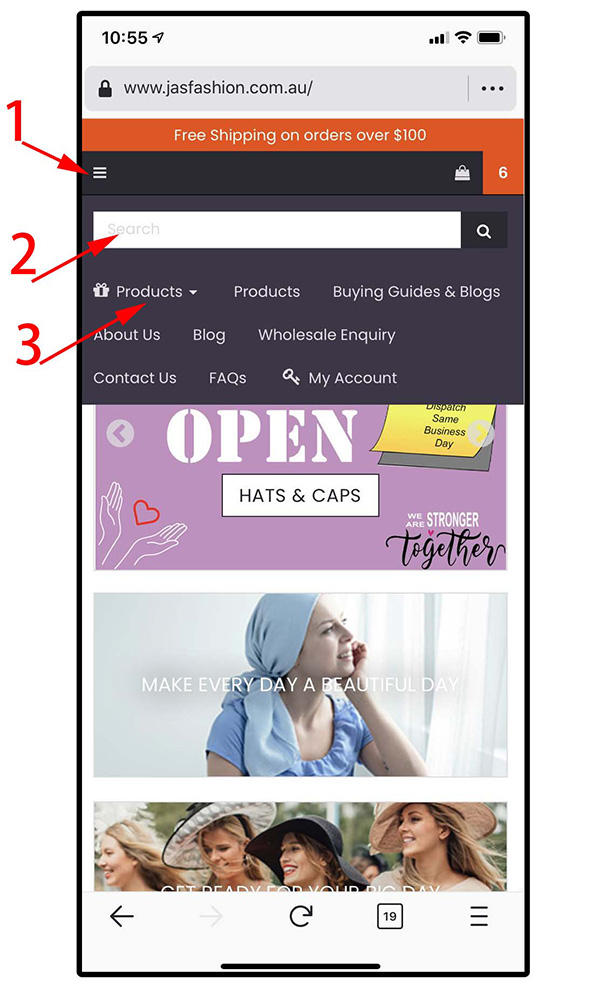 When the Products Menu is expanded, it will look like the following screen printout. You can go to a specific sub-category or click on View All (#2) to browse all the products in this category.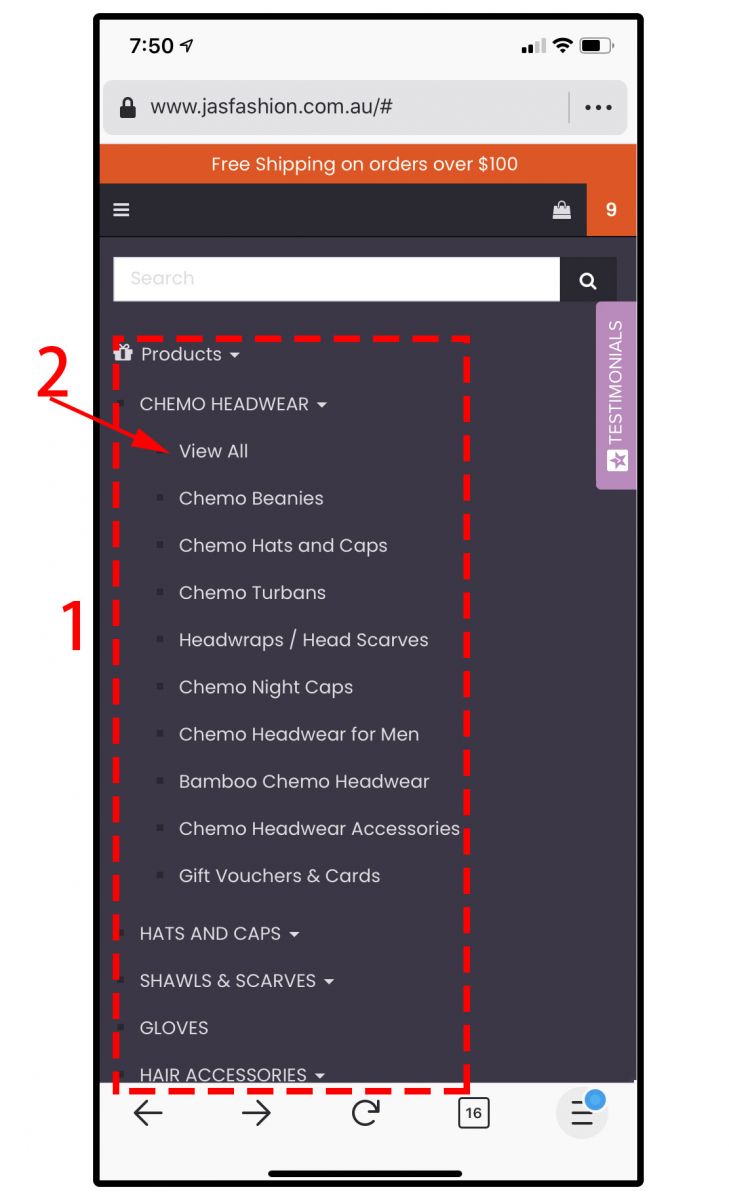 The following screen is what our CHEMO BEANIES sub-category page looks like. You will see different products thumbnail images on this screen.
You can filer your products (#1).
You can sort the products (#2) by "Most Popular" or by "Newest" etc
Click on each product's name (#3) to go to the product page and view the details of it.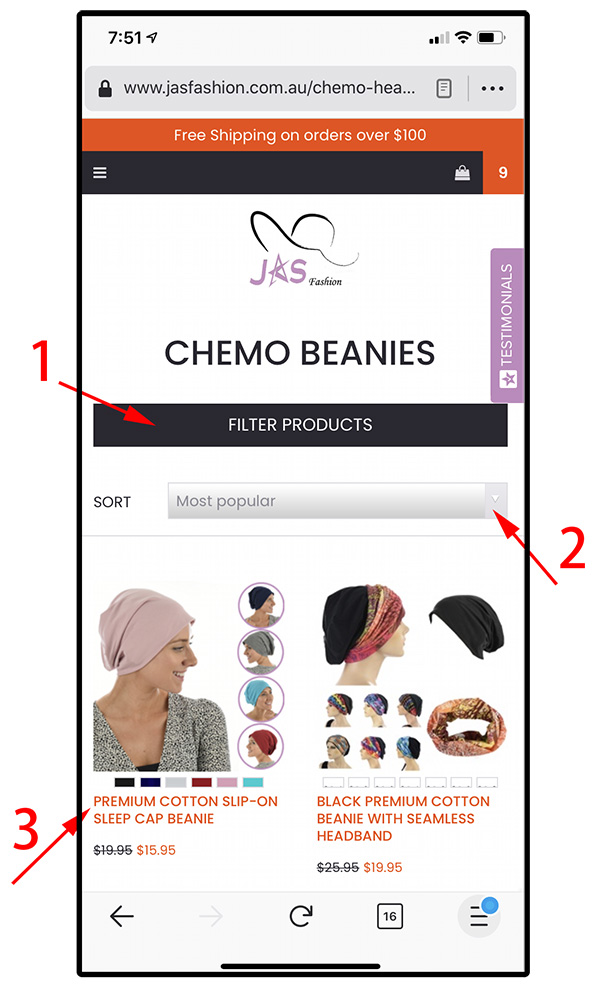 When you click on "FILTER PRODUCTS", the screen will look like as follows. The filtering function helps you to reduce the number of search results. In Jas Fashion online store, you can filter your products by head sizes (#1) or prices (#2).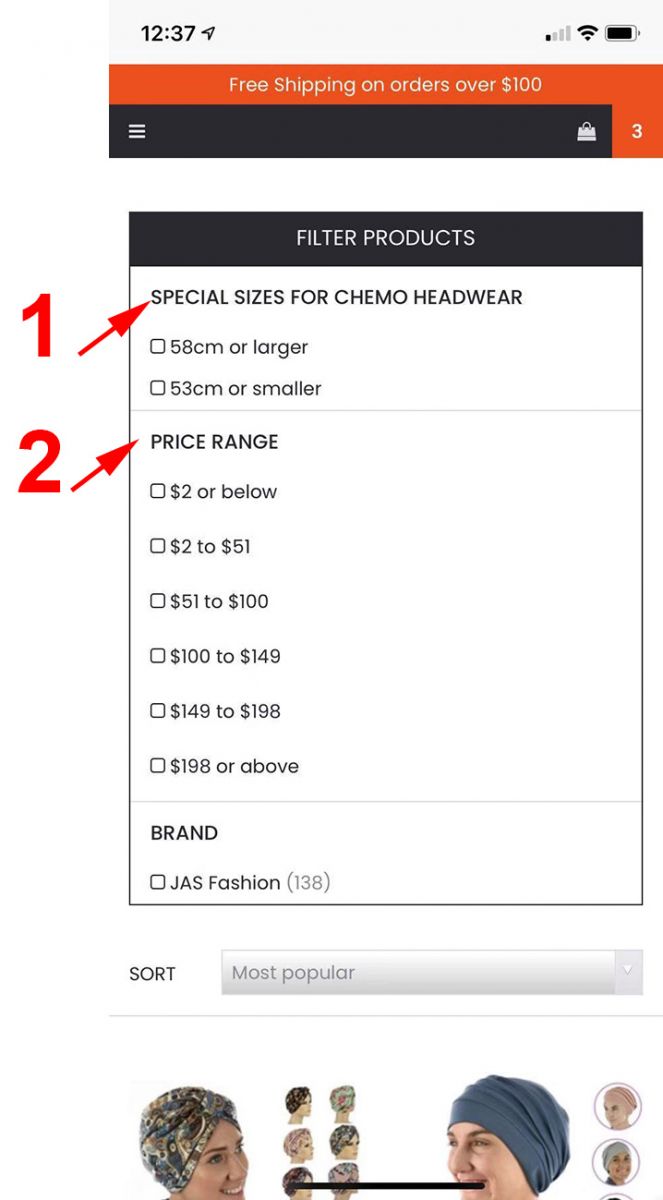 To SORT (#1) products, you need to use your finger to swipe the screen up and down (#2).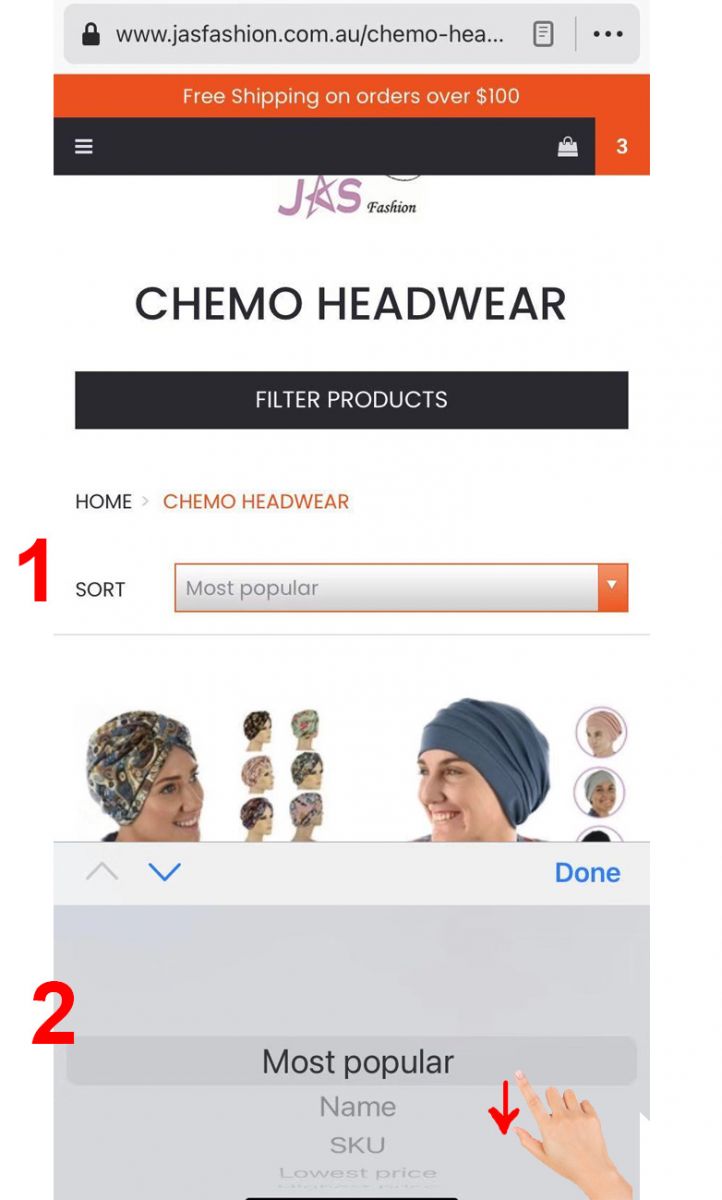 Step 2: Find the Right Product and Add It to Your Shopping Bag
When you enter a product page, it will look like as follows.

Click on the Left Arrows (#1) or the Right Arrow (#2) to see different images. Click on Reviews (#3) to see what the other buyers say about this product. Swipe your finger down (#4) to view the description of the product.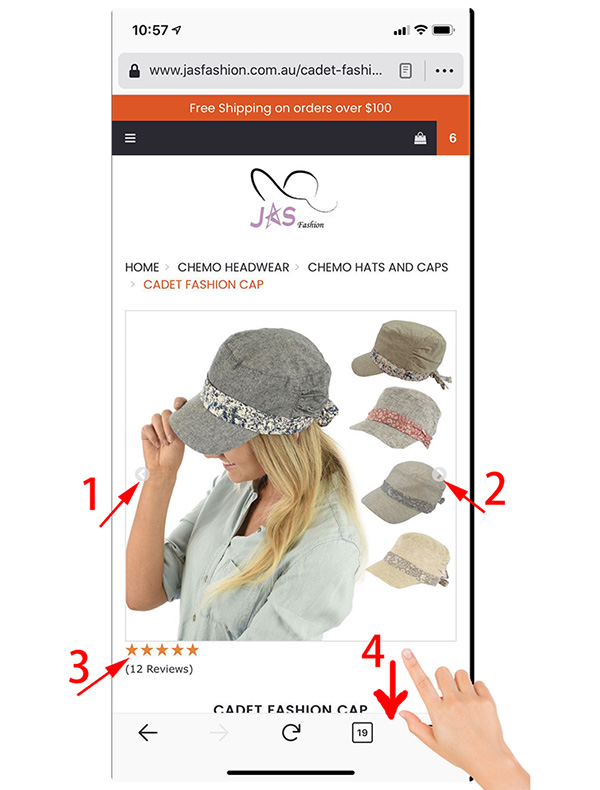 #1 - The area is where you see description, Sizing, Material, Care Instruction details.

#2 - Select the colour and sizes

#3 - Click to ADD TO CART (by default, Quantity is set as "1")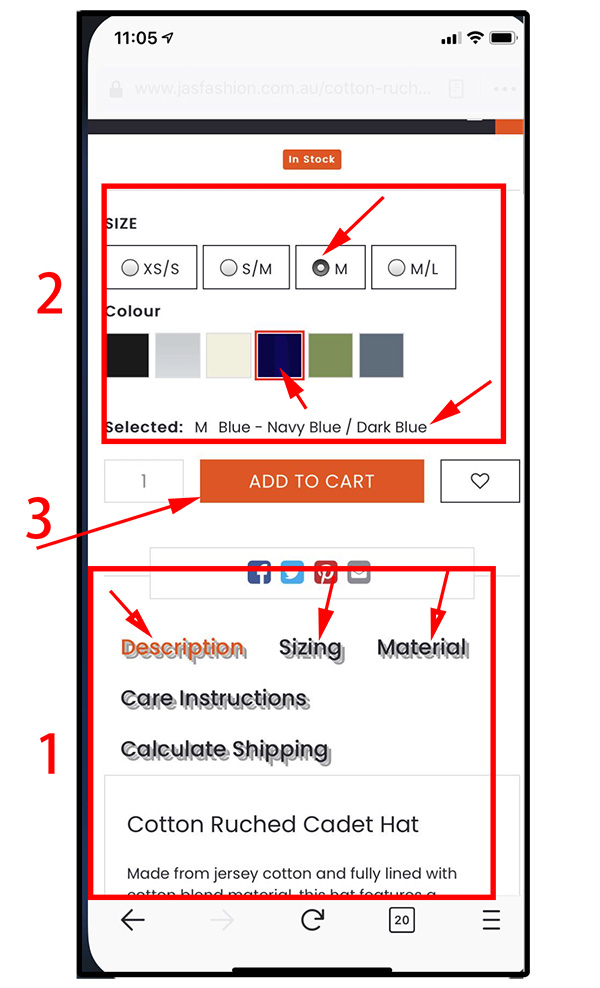 #1 - Check product SIZING (#1) is very important.
#2 - Go back to Description section
#3 - Go to other details of this product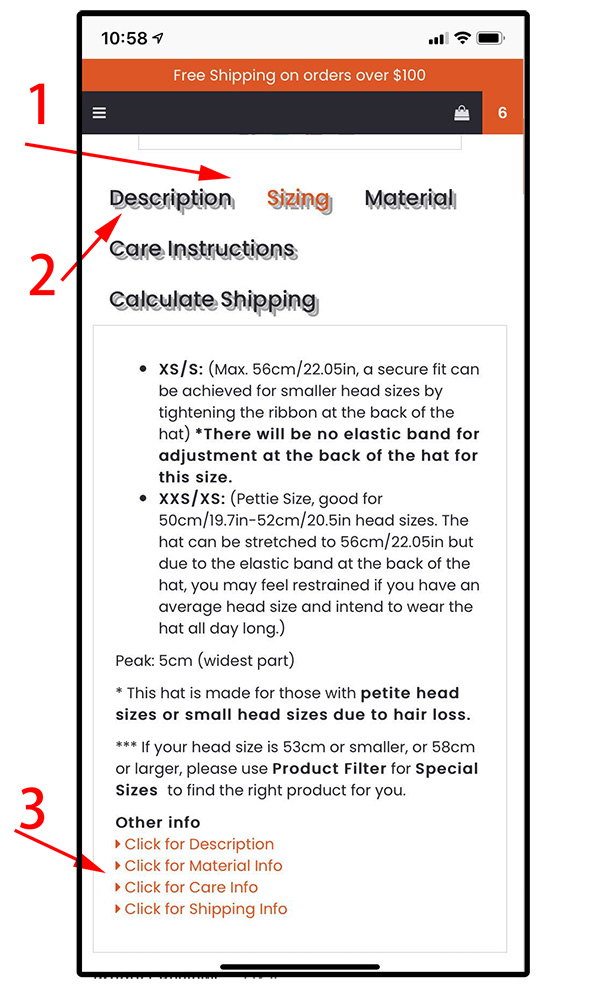 #1 - Continue to place more items into your shopping bag

#2 - Go to Checkout Point.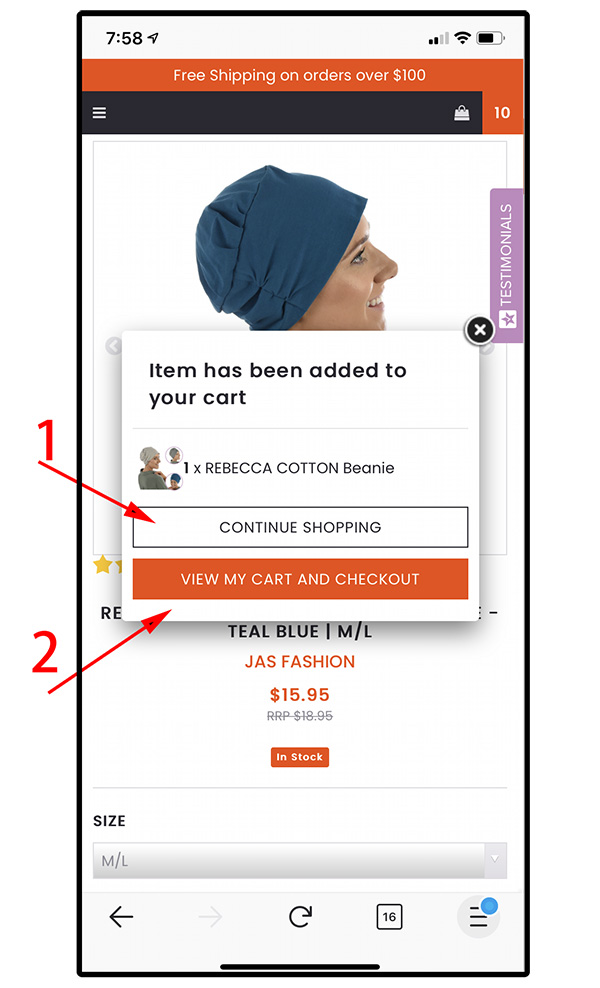 Step 3: Check Out
#1 - What is in your Shopping Cart

#2 - Change the quantity. Change to 0, if you want to remove it.

#3 - Update your changes (after #2)

#4 - CONTINUE SHOPPING – to go back to the previous page

#5 - Go back to Main Menu

#6 - CHECKOUT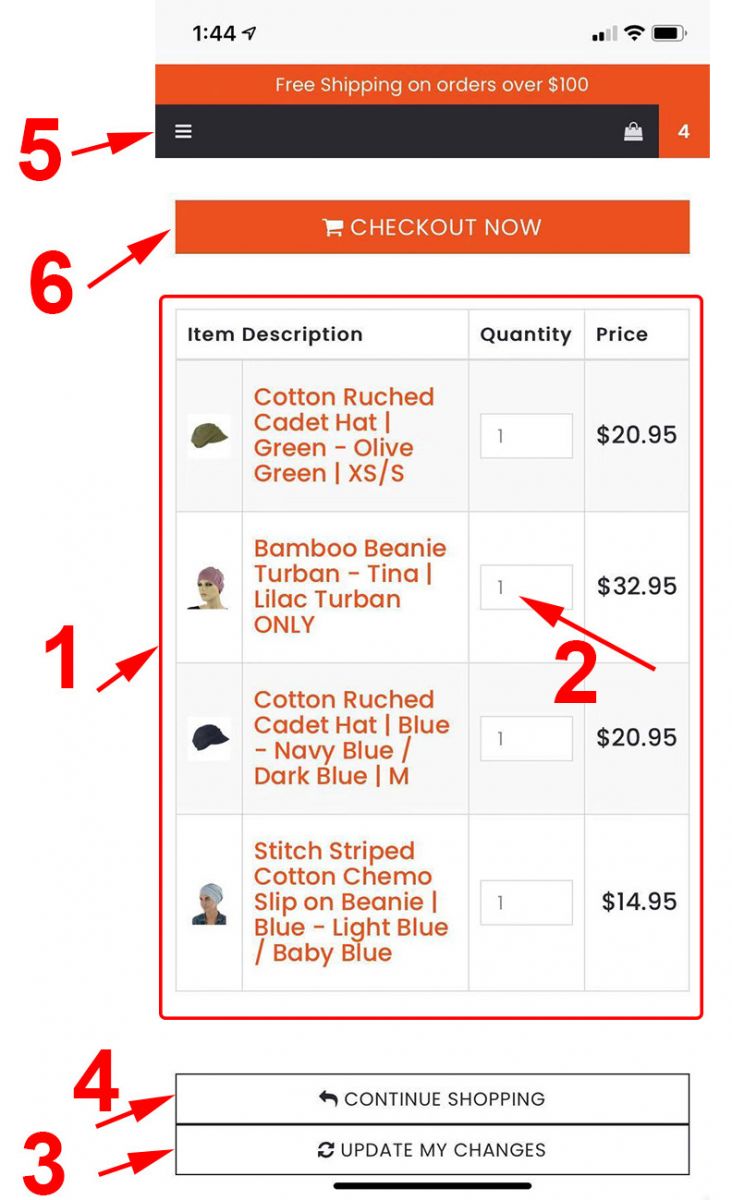 #1 - Billing Info page.
#2 - Login if you are a repeat customer, and your information will come up once you log in.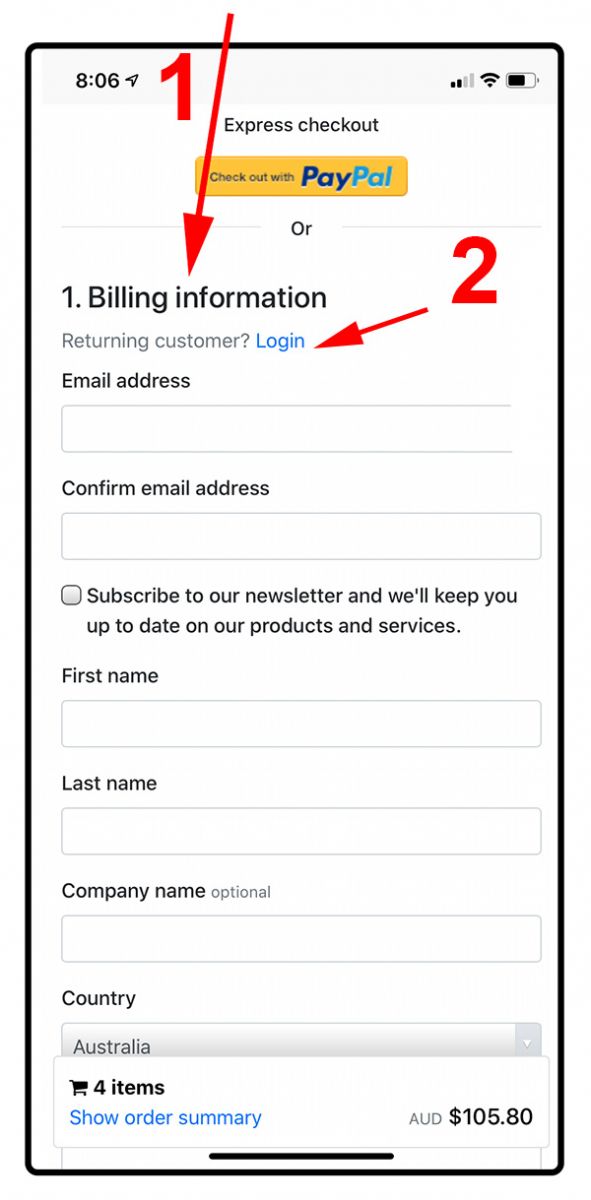 #1 - Shipping Method
#2 - Select it if your billing address is your shipping address.
#3 - Select Different Address if this order is to be sent to a different address.
#4 - Select Shipping Methods. Select Express if your order is urgent. By default, Standard Service will be pre-selected for you.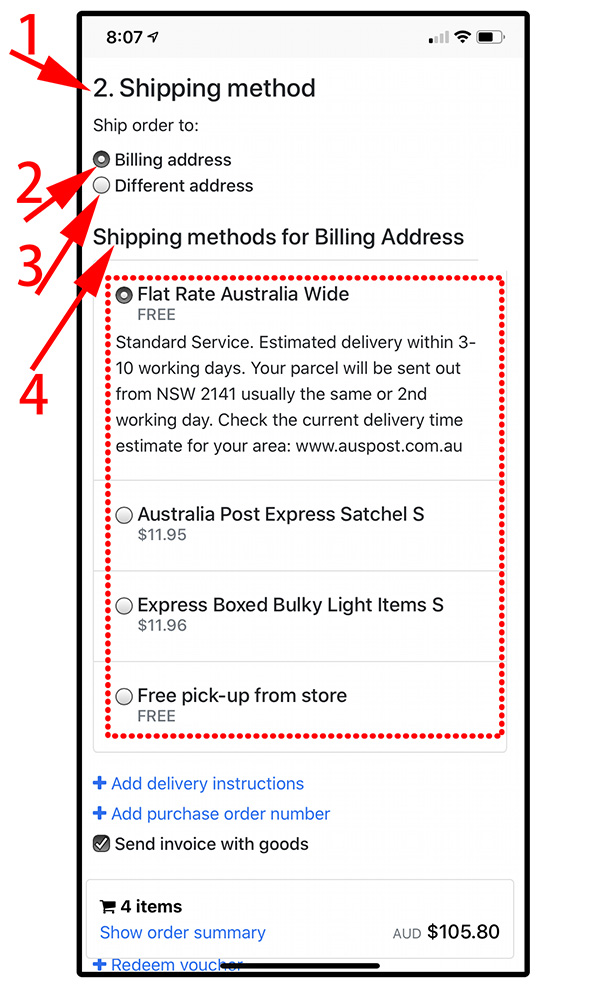 #1 - Payment Details

*You can checkout as a guest if you don't want to sign up with us. You pay with your PayPal account. If you don't have a PayPal account, you will have to fill in your credit card details.

*This is where you can put in your voucher code or gift card details if you have one. For how to use a discount code or voucher, please go to another detailed guide. Click here!

#2 - Put your credit card details here (if you want to pay with a credit card).

*The credit card detail form will appear when you select your credit card type.

#3 - You must check this box to agree to Terms and Conditions and Privacy Policy of Jas Fashion store. You can view our policies by click on the link.

#4 - Confirm and Process Order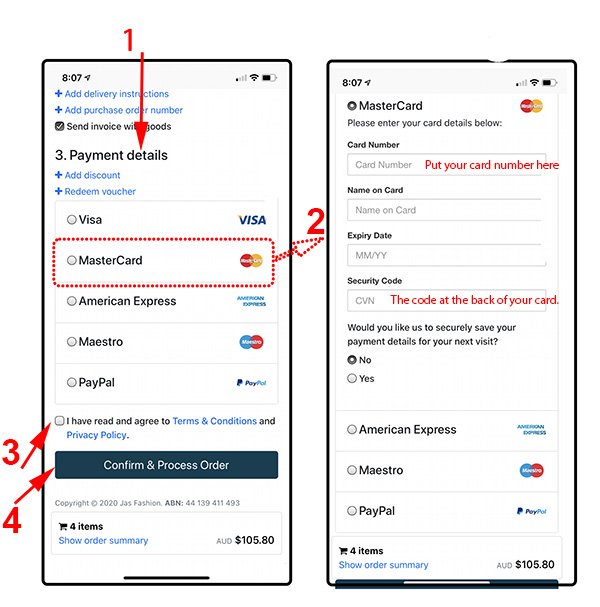 Order Confirmation Page

#1 - If your order is successful, you will see the order confirmation page. You will get an Order ID (#1)

#3 - If you like, you can print your order.

In a few minutes, you will receive an email with your order invoice too. Make sure you check your Spam mailbox too!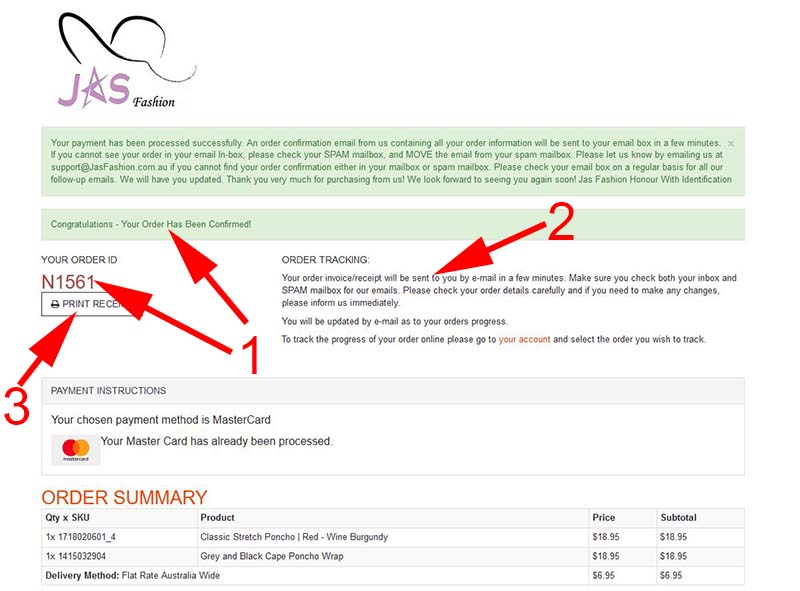 That's it!!!
If you have a smartphone, why don't you give it a go?
Click here to enter the Registration/Sign-in page and start now!
For our Step by Step Guide on How to Place an Order from a Computer, please click here!