Chemo Turban Hat History and Styling Guide
Jas Fashion

History of Turbans
According to Wikipedia.org, a turban is a type of headwear based on cloth winding. It is traditionally worn as customary headwear by men in some religious countries.
Nowadays, turbans have been worn by both women and men regardless of their gender and religious backgrounds.
The turban was introduced to the fashion world in the fifteenth century and has been revived many times over the centuries. In different times, turbans were used to convey different styles and the wearers' personalities. According to Caroline Rennolds Milbank, in the 1920s and 30s, turbans signified a woman who was educated and worldly. Later on, turbans have been paired with jewels to display grandeur and sophistication.
Turbans were worn by many celebrities in the past. Gloria Swanson, Greta Garbo, Elizabeth Taylor and had won numerous compliments for their turban outfits.
(Image source: Elena's Diary)
Turbans and Contemporary Runways
Turbans have been making a comeback in the fashion world.
As time changes, colours and shapes of turbans are designed in a more contemporary way to offer women a chic and fashionable look. Many modern celebrities chose turbans to match their grandeur and elegant ensembles. Katy Perry, Eva Mendes, Jennifer Lopez, Kylie Minogue and even Queen Elizabeth II are all caught wearing turbans to attend events in recent years.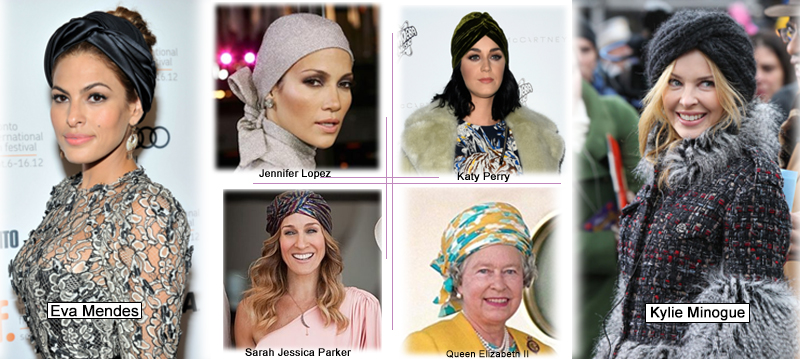 (Image source: Harper's Bazaar Arabia, Daily Mail Australia & Stylebistro)
Benefits of a Turban
Turbans are really making another come back quietly but assertively – on the streets and the runways. Turbans provide not only a fashion statement but also functionality. People wearing turbans to express glamour and their personalities, or simply to cover their unruly hair. They are perfect for hair control in the summertime and warm your head and ears in chilly winters. For generations, a turban has been favoured as a multi-tasking, and multi-functional wardrobe must-have.
Turbans, painless to put on, providing full head coverage, are quite popular among women following cancer treatment to disguise the side effects of chemotherapy.
How to wear a Turban
A turban can be used to dress up or down. It can easily match with different outfits to provide several styles and looks. Plain turbans can simply go with plain tees and jeans, coats, sweaters or blouses; printed or silky turbans can match your evening dresses elegantly; colourful turbans paired with daily outfits light you up instantly.
There are endless ways to play with a turban. With a turban, your imagination and creativity will be endless.
Jas Fashion and Turbans
Jas Fashion stock a wide range of turbans such as paisley print viscose turbans, floral print turbans, classic plain turbans. Go to our store and find your favourite today.

---
---