Knitwear Care Instructions
Jas Fashion > 10 May 2018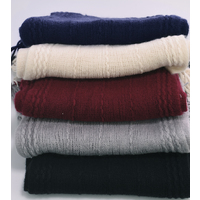 Knitwear has always been one of our main products. Jas Fashion carries a wide range of products in knitwear such as beanies, headbands, gloves and scarves. Knitwear is a winter essential for men, women and kids. It is a great wardrobe staple to complete your winter outfits.
Your wardrobe favourite knitwear can last quite a few winters if you look after it properly. Our designs are made from fine and delicate yarns. Please take care when handling.
For any knitted items, please:
Check the knitwear completely before washing for any loose threads, snags or ripped seams
Hand wash with warm or cold water with a gentle detergent only to prevent unravelling and pilling. You may like to soak the item for 5-10 minutes before you wash the item to get the best result.
Reshape your knitwear item and lay flat to air dry in shade. Make sure to remove water by pressing or squeezing the wet item. DO NOT wring it.
Wash dark colours separately.
DO NOT hang. Please store flat.
---
---